New Series Beginning January 2023: Lectio ~ The Gospel of Mark
Please join us on Thursdays in the Parish Hall from 9:30 a.m. to 11:15 a.m. We ask that you arrive at 9:15 a.m. for registration and fellowship to begin this fascinating study and journey through the Gospel of Mark.
In this powerful 14-part series, developed by the Augustine Institute, discover the Gospel of Mark like never before as you immerse yourself in this Gospel that offers Saint Peter's account of Christ's life and teaching. Delve deep into the theme of the "way" and true discipleship and see how Jesus reveals his identity in authoritative words and deeds. Let this study lead you to a profound reflection of the shortest of the four Gospels.
For more information, or to order a Study Guide, please contact Pat Piccoli at nonnapat52@gmail.com or 561-339-8439.
The cost is $30.00, payable in cash or check, made payable to St. Jude Church. Scholarships are available for those with financial difficulties. (Please see Deacon Les or Pat Piccoli)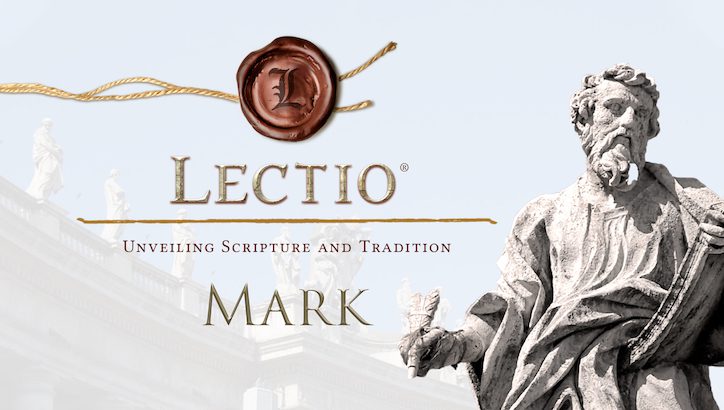 ---
The purpose of this ministry group is to grow in love and knowledge of the Lord through the study of His Holy Word. As stated by St. Jerome, "Ignorance of Scripture is ignorance of Christ." Gatherings promote self-study, group discussion and will often feature short lectures or DVD presentations. All members share the responsibility of creating an atmosphere of loving support, trust and encouragement where sisters in Christ can share their insights and experiences. All materials are faithful to the Catholic Church's teaching on Sacred Scripture. As is true of all other ministries, the most important element of this ministry is prayer. Prayer brought this ministry into existence and has sustained it in our parish for many years.
This ministry gathers on Thursday mornings from 9:30 a.m. to 11:00 a.m. in the Parish Center and offers several studies during the year. Many women choose to attend morning Mass prior to the study (please check the bulletin or website for seasonal time changes).
COORDINATOR:
Pat Piccoli
Phone: 561-339-8439
E-mail: nonnapat52@gmail.com